The novel Coronavirus is shattering the Australian economy, with Australia officially declared as being in a recession, its first in 29 years. The Australian Bureau of Statistics (ABS) June key figures found unemployment increased a further 69,300 to a total loss of approximately 992,300 jobs since March, forcing the unemployment rate to jump another 0.4 pts to 7.4%.
With thousands of Australians out of work and unable to afford necessary living expenses, many people are experiencing financial hardship for the first time by no fault of their own. Government stimulus measures such as allowing home owners to hit pause on their home loan repayments for six months have been invaluable, giving Australians some financial relief during these uncertain times.
As of 19 June 2020, the Australian Banking Association (ABA) released new figures showing 485,063 mortgages had been deferred, totaling $175 billion.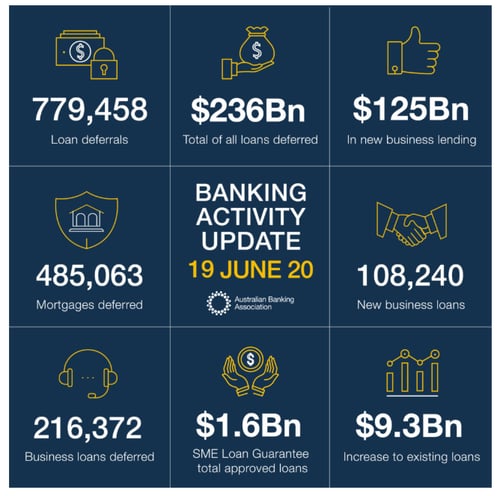 Source: Australian Banking Association mortgage figures.
ABA CEO Anna Bligh said "Australian families who are financially affected by this crisis have had the breathing space they need with a six month deferral on their home loan repayment while they chart a path through to the other side of this downturn."
On 8 July 2020, the ABA announced a four-month increase to the six-month loan deferral period, allowing Australians in financial hardship to defer their home loan repayments until January 2021. However, deferring your home loan may leave you financially worse-off than what you were before you paused your repayments, with interest on the home loan still accruing even though the repayments are frozen.
According to the Australian Financial Review (AFR), housing stress is on the rise with the number of Australians in mortgage stress rising to 38.8% during April, up from 37.2% in March, to 1.41 million households nation-wide at risk of losing their home.
Sally Tindall, Research Director at RateCity said the banks are doing the right thing by customers in need, but it's extremely important for people to understand the long-term implications of a repayment pause.
If you've paused your home loan repayments, you need to be aware of your financial obligations once the repayment pause ends.
The Risks of Deferring Your Home Loan
Deferring your mortgage may help ease the financial strain you may be experiencing in the short-term, however, it may cost you after the Coronavirus has passed. Even though your home loan repayments are paused, banks will continue to charge you interest on the principal loan amount – which means the interest you don't pay during your repayment pause period is added to your outstanding loan balance.
6-Month Home Loan Deferral Example (Based on Principal & Interest)
| | |
| --- | --- |
| Current Balance | $450,000 |
| Time Remaining on Home Loan | 25 Years |
| Interest Rate | 3.5% p.a |
| Payments | Monthly |
| Payment Increase | $69,04/month |
| Total Balance Increase | $7,932.65 |
In the example above, by deferring your home loan repayments for six months, you add an extra $7,932.65 on to the life of your loan – which increases your minimum monthly repayments by $69.04.

Tips for Reducing the Impact of a Home Loan Repayment Pause
If you don't have too much owing on your home loan, you should try to pay it off during the 6-month repayment deferral period.
The Australian Government has allowed early access of your superannuation under financial hardship due to Coronavirus. According to the Australian Business Review, as at 24 June, 2.3 million superannuation fund members had applied for withdrawals. Accessing your super early may help you to keep on top of your home loan repayments and be prepared once the 6-month pause period ends.
When the pause finishes, take into account the extra interest you have accrued and see if you can increase your home loan repayments or make extra payments to catch up. For example, you could consider making fortnightly repayments rather than monthly or weekly repayments rather than fortnightly.
Contact your bank and try to negotiate a lower interest rate. With interest rates at a record low, you could use the savings from the rate reduction to put back into your home loan.
Get in touch with our team. We can look to refinance your mortgage to a potential lower interest rate and streamline your debts into one, easy-to-manage repayment.
Alternative Options
There are alternative options available that can help get your debts under control without freezing your home loan repayments.
1. Ask for a Lower Interest Rate
Banks are very aware of the impact Coronavirus has had on their customers and are generally willing to negotiate if you are struggling financially. With RBA interest rates at a record low 0.25%, it's worth asking your bank for a lower interest rate, especially if you haven't reviewed your home loan in a while. Even if you receive an interest rate reduction of just 0.5%, you'll save a significant amount of money over the duration of the loan.
2. Switch to Interest-Only Repayments
A number of banks are allowing customers to switch from principal-interest repayments to interest-only repayments to help those who have been financially affected by Coronavirus. Paying back just the interest on your mortgage lowers your repayments, easing financial difficulty during these times of uncertainty.
3. Refinance Your Home Loan
By refinancing your mortgage, you may be able to get a lower interest rate and set of fees. Refinancing your mortgage also provides you with the opportunity to consolidate your unsecured debts into your home loan, reducing multiple interest rates and repayments.
4. Look at a Debt Management Plan
At Revive Financial, our Debt Management Plan can streamline your unsecured debts into one, affordable repayment. Instead of freezing your home loan repayments, we can help get your debts under control, so you can afford to repay your home loan and everyday living expenses without worrying about your finances.
Don't Fall Deeper into Debt
If Coronavirus has caused your debts to spiral, get in touch with us today on 1800 534 534 for a free 30-minute consultation. Our friendly team will take the time to assess your financial situation and determine the best solution to get you out of debt without freezing your home loan repayments.