The Federal Government's COVID-19 stimulus measures were first introduced in early 2020 as an economic response to the Coronavirus pandemic.
These measures were expected to end in September, but with the outbreak continuing to hit the Australian economy, especially in Victoria, the Government has made changes to extend their financial support.
Financial stimulus measures including JobKeeper and JobSeeker have now been extended until the end of the year, but at a reduced rate.
On 25 June 2020 the Government also announced a $250 million JobMaker package to help restart the creative economy, assisting the hard-hit entertainment, arts and screen sectors to rebuild from the impacts of COVID-19.
We've put together everything you need to know about the changes to the Government stimulus measures to understand how they may affect you.
Timeline of COVID-19 Government Stimulus Key Dates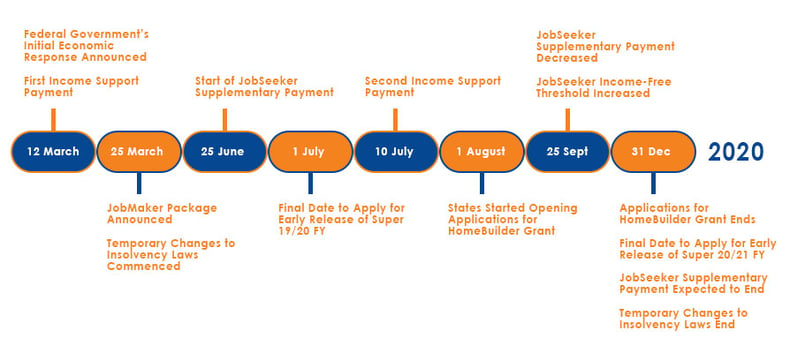 List of Economic Stimulus Measures and Upcoming Changes
COVID-19 Stimulus Measure
Date of Effect
End Date/Reduction Date Details

JobSeeker Supplementary Payment

The JobSeeker Supplement was introduced by the Australian Government to support unemployed individuals during the COVID-19 pandemic.
25 March 2020

On 25 September, the $550 JobSeeker supplement will be cut to $250.

Fortnightly payments for singles will drop to approximately $815 a fortnight, down from $1,115.70.

The income-free threshold to be eligible to receive JobSeeker is increasing to $300 a fortnight from September 25, allowing you to earn more money without it affecting your payment.

The end date for the JobSeeker Supplement is 31 December 2020, however the Government has yet to say what will happen after this date.

Income Support Supplement

One of the first measures announced in response to the pandemic was two separate cash payments for individuals who were currently receiving Centrelink benefits.

1st payment between 12 March and 13 April 2020

2nd payment after 10 July 2020

Both income support payments have already been paid to eligible recipients who were receiving social security, veteran and other income support or were an eligible concession cardholder.

Early Release of Superannuation

If you have been financially affected by COVID-19, the Government has given individuals the ability to access up to $10,000 of their super early.

Up to $10,000 before 1 July 2020

Up to $10,000 before 31 December 2020

Individuals who are unemployed or are eligible to receive the JobSeeker Payment are eligible.

Individuals who were made redundant or had their working hours reduced by more than 20% on or after 1 January 2020 are also eligible.

It's important to be aware of the risks involved with accessing your super early.

HomeBuilder Grant

HomeBuilder was introduced to provide eligible owner-occupiers (including first home buyers) with a grant of $25,000 to build a new home or substantially renovate an existing home.
Applications opened in states across Australia from August 2020

Applications for the HomeBuilder Grant must be received no later than 31 December 2020.

Construction must commence within 3 months of a signed building contract to be eligible.

You will not receive the payment until after construction has commenced and the first progress payment (for new builds) has been made, or at least $150,000 of the contract price (for renovations) has been made.

Those living in Victoria have been provided with a 6-month extension to the construction commencement timeframe due to the ongoing COVID-19 restrictions in the state.

Temporary Changes to Insolvency Laws

The Australian Government made changes to the Bankruptcy law as poart of their economic response to the Coronavirus. This provides individuals with lenience if they have outstanding debts with creditors.
25 March 2020

A Bankruptcy notice can only be issued against an individual for a debt over $20,000 and they will have six months to respond. The moratorium period for a declaration of intention to present a debtor's petition remains at six months. These temporary insolvency law changes were extended and are expected to end on 31 December 2020.
Although JobSeeker and JobKeeper payments have been vital in assisting Australians through these challenging times, the COVID-19 outbreak has financially impacted thousands of individuals and businesses across the country, with many experiencing financial distress for the very first time.
If COVID-19 has caused your debts to spiral, get in touch with our expert team today on 1800 534 534 for a free consultation to discuss your debt relief options.
To find out more about the COVID-19 support currently on offer in your state or territory, visit the MoneySmart website.